One of the best ways of increasing the charm and elegance of your home is to maintain the paving stones in good condition. If you take proper care of your pavers, they can prove to be durable besides being a beautiful addition to your property landscape.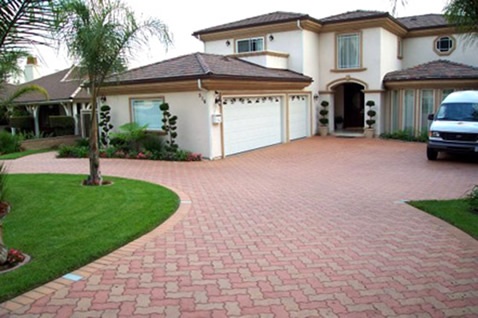 Here are the simple tips to keep pavers looking new.
1. Sweep Your Pavers Regularly
Use a broom to sweep your pavers regularly. Make sure that you sweep off the debris and dust from your pavers at least once a day.
If you think that it will rain soon, then you should sweep off leaves and dirt from your pavers because these things can leave stains on your pavers if they get wet.
2. Pour Water to Rinse Your Pavers
Utilizing a hose and its attachment, you can pour water on your pavers so that it takes away the dirt and debris that remains even after sweeping.
Of course, sweeping can remove the bulk of dirt and debris but not all of it.
You do not need to resort to pressure washing unless there are moss and mold between your pavers.
The cleansing effect of water will leave your pavers glistening like new and make you one proud homeowner.
3. The Paver Solution
You can make a cleaning solution to get rid of stubborn dirt and stains on your pavers. Fill up your bucket with water and add in some dish soap. You may then dip the rag or sponge (with which you will be cleaning the pavers) into the solution and then scrub the problem pavers.
A little bit of elbow grease will work wonders besides a good cleaning solution. For oil stains, however, you must make use of an oil remover.
4. Paver Sealer
It is a good idea to apply paver sealers once a year to shield your beautiful pavers from the harsh elements. Sealers will make your pavers look as good as new.
The sealant works by preventing stains and dirt from penetrating the surface of your stone pavers. Without a sealant in place, stains and dirt can wreak havoc on your pavers.
Since the sealant provides a smooth glossy surface, they are easier to clean. You can wipe off dirt and debris much more easily from the sealant surface.
The sealant also provides a lustrous and silky surface for your pavers to give them a brand new look.
There is so much that a good sealant can do for your pavers. The sealant is your friend since it provides an easily cleanable surface that will help to save your time and reduce drudgery.
5. Replace Old or Damaged Pavers
If a paver is damaged or heavily stained, you can get professional help to remove it without damaging the surrounding paving stones.
With professional assistance, you can get the job done perfectly in a short time.
Whether it is applying a good sealant or fixing your pavers, you can count on us to do things right. With our help and the aforementioned tips to keep pavers looking new, you will save time, effort and money in the long run.